CEO James Bealon aka (Easy) founded the Ez Runer Remodeling in April of 2001. EZ Runer is a full service plumbing and heating contracting company, installing eco-friendly plumbing, & heating systems. Proudly our experience spans over all phases of construction: plumbing, heating, design and renovations. Whether it is a commercial or residential project, our staff of 20 full-time employees is trained to do an exceptional job. 
We are a NY State and City MWBE certified company. We also hold master plumbers' licenses in NYC and Westchester County areas. All employees are HPD certified for lead safe work practices. Also OSHA certified for safe work practices.
We have done work for owners, property managers, project managers, and architects. With our innovative designs, we can make your kitchen, bathroom, or entire living space look amazing and increase the overall equity of your home or property.
NYC Master Plumber License #1855
Westchester Master Plumber License #1166
NYC General Contractor License #33969 
NYS Certified Backflow Tester #9682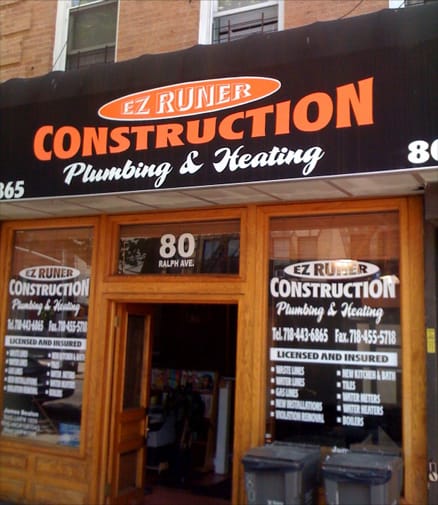 Peter R.

Senior Architect, Aston Architecture, PC

"I have had the pleasure of working with EZ Runer on several projects, both custom single family and multi-family residences. The level of service is excellent as is the competence of all the mechanics. Projects have moved smoothly, both on time and within budget. I'm looking forward to working with the company for many years to come."

Carmelo R.

Project Manager, AT Construction Group.

"In the past few years I have worked with EZ Runer Plumbing on at least 12 occasions. My experience with the crew at EZ Runer has been positive. EZ Runer has always been able to execute the project at hand with ease and professionalism. I have referred EZ Runer Plumbing to my close friends and associates."

Michael Z.

Project/Property Manager, Newcastle Realty Services

"Ez Runer Construction is a great company to work with; they are efficient, honest, cost effective and reliable! If your goal is to achieve quality work at an affordable price – call EZ"

Margaret S.

CEO, New Castle Realty

"We have been using EZ Runer for almost 10 years now, for project ranging from large to small. Literally he has done everything from swapping out a toilet to re-plumbing a 73-unit 10-story building for us. His service is reliable, honest and professional."

Tanya P.

Executive Director of Construction Business Services, Columbia University

"My experience with Ez Runer Construction was one of the best I have experienced with a contractor. Mr. Bealon responded to my boiler emergency in rapid fashion. He determined I needed to replace boiler in a new home I had bought. He gave me an excellent deal on both appliance and installation, which was installed immediately. The professional approach of he and his staff was superb."

Sarah B.

Thylan Associates, Inc

"As the CFO/Controller of a Re Development firm I know quality work. Ez Runer Construction is reliable, dependable, performs quality craftsmanship and pays attention to detail. I highly recommend Ez Runer Construction."
Your Plumbing And Carpentry Experts!